by Barbra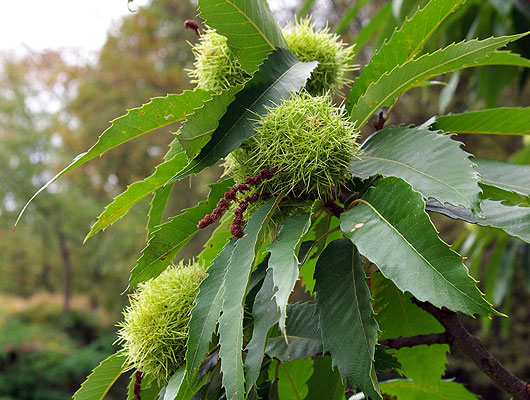 Castanea sativa
is a species of the flowering plant family Fagaceae, the tree and its edible seeds are referred to by several common names such Sweet Chestnut or Marron. (Wikipedia)
You all know how it goes. It's the that time of year again where you sit by the (possibly open) fire on a wintry evening, glühwein or punch in one hand and in the other hand you have a freshly roasted chestnut you nibble on.
At least that's what the idyllic ideal would be like. I have no access to an open fireplace. I haven't had glühwein or punch in ages, but I still like to have roasted chestnuts. So I go and buy them, score them, let them soak in water and then roast them in the oven.
Mmmmhhh!
The last pound I bought was so fresh that several sprouted and guess what - I kept one. You already know how I like to tend to plants, don't you? Well, if you don't know, you know now. (Really? I haven't pointed out a hundred times how proud I am of my 28 orchids and 12 hippeastri? Really? I've forgotten to mention that? I mean... REALLY???)
My chestnut tree is almost ten days old and it's already 6 inches high. It grows an inch a day now!!! This morning I did a lot of research on sweet chestnuts - so I know what to expect. I'll have to find a pot that's big enough very soon! Spring 2011 I'll have to find a nice, sunny place for it outside. The soil where I'm going to plant it is as I found out the best for chestnuts!!! I can't believe how lucky I am!
Oh I'm so looking forward to harvesting my first own chestnuts in 20 years!
But as I found out there's also another use for sweet chestnuts:
Sweet Chestnut is the remedy for people who have reached the limits of endurance. They have explored all avenues and see no way out of their difficulties. They feel there is nothing left for them but annihilation and emptiness. The person in a Sweet Chestnut state is genuinely at the end of the line: theirs is appalling, final despair. In this extreme state, the remedy helps us remain masters of our lives, and renews our hope and strength. (Dr. Edward Bach on Sweet Chestnuts 1936)
Well, it's good to have one then I guess.